Cesar Harada is an French-Japanese Inventor, Environmentalist and Entrepreneur. Currently developing the Protei – a revolutionary shape shifting sailing robot- with the Open-H2O community, TED Senior Fellow, Unreasonable at sea Entrepreneur, Figure of progress (by GOOD and IBM), PhD candidate at Goldsmiths University of London, writing on "Open Hardware for the Environment" with a strong focus on ocean communities & technologies. Cesar also teaches Masters of "Design and Environment" at Goldsmiths University.
Cesar blogs at http://www.cesarharada.com/ and he is blogging his Unreasonable at Sea journey also here on www.unreasonable.is/atsea
Aloha Hilo

The beauty and luxurious landscape of Hawaii big island welcomed us after a few days at sea.
I realised I became slightly anxious to come on land as the ship became our new home.
I adapted quickly to the motion of the ship and felt strongly land-sick for the first few hours in Hawaii.
Design Thinking workshop at Hilo University
We had a fruitful Design Thinking session in Hilo University with big Island locals. We brainstormed with another company Evolving Technologies building low cost endoscopes. Many new creative uses of Protei, based on discussion came up. Asymmetrical hulls have been in use for a very long time in Hawaii, some early designs of Protei have been drawing inspiration directly from Hawaiians traditional boats. Another interesting information was that local schools organise every year a robotic competition, so we naturally thought building plastic collecting robots would be a smart challenge to submit and perhaps support with the Protei team.
Meeting with Hank Carson, Anna Cummins & Markus Erikson
We had a great conversation with Dr Hank Carson, that explained us a little bit about his research. He showed us samples of what can be found on the beach, and the message is : "don't buy plastic toys anymore, they are freely available at Kamilo Beach" 🙂
We also played with these very cool red blocks that has been used to study the currents around the island.
We were also incredibly lucky to meet 2 other legends of the plastic gyre : Marcus Eriksen and Anna Cummins.
They told us about a very recent paper they published about the South Atlantic plastic gyre. You can buy the publication here.
Marcus Eriksen
Anna Cummins
Together with Levine, Carson, and Eriksen we had a detailled discussion of how plastic measurements could be improved both with new trawler designs and swarms of sailing robots such as Protei. Carson evoked an optical plankton counting so Protei could collect data instead of physical samples. Eriksen talked about his high-speed trawling devices and was very inspirational for us. Carson Suggested that if Protei was capable of carrying multiple instruments, useful information would be provided by
We are very eager to continue this conversation and contribute Protei technology to improve how we study plastic in the oceans.
Lava Tube and Kamilo "Plastic" Beach
Following the advice of Carson, Eriksen and the locals we met at Hilo University, we rented a Jeep and headed down south towards Kamilo Beach.

We had a bumpy ride, several drivers had been less lucky than ourselves :/
We got stuck in the sand and volcanic rocks twice, but thanks to the experience of the film crew and hippie muscle power, we got out of trouble.
On our way to Kamilo Beach, we passed a large "hole" in the ground.
I could not manage not to explore this cavity, and soon we were exploring (for me the first ever) lava tubewith our little headlamps.
One of the thing I like the least is wrapping myself in spiderwebs in dark caves in exotic locations. The questions that occur to me are "What's the size, color, weight and poisonousness of the spider that's crawling on my neck now?". But it was all worth it! What an incredible space!
It took us some time to find Kamilo beach as there is no real road that leads to it. We got lost several times on lava fields but only to enjoy spectacular volcanic cliffs.

After searching GPS coordinates, we finally located Kamilo Beach and witnessed the ecological horror of the infamous "plastic beach".
Some parts of the beach have simply become rainbow, with much more plastic that there is sand.
We collected  sand and plastic mixed samples at 3 levels :
above high-tide level
intertidal zone
Underwater, about 50 meters from shore.
What we also witnessed underwater a great population of little fishes, anemones, corals and sea cucumbers that seemed to be thriving in this highly polluted environment.
One of the most famous picture when it comes to plastic pollution, is the picture below : a bird that probably died with his digestive system saturated and obstructed with plastic debris. We only stayed a few hours and did not find such carcass.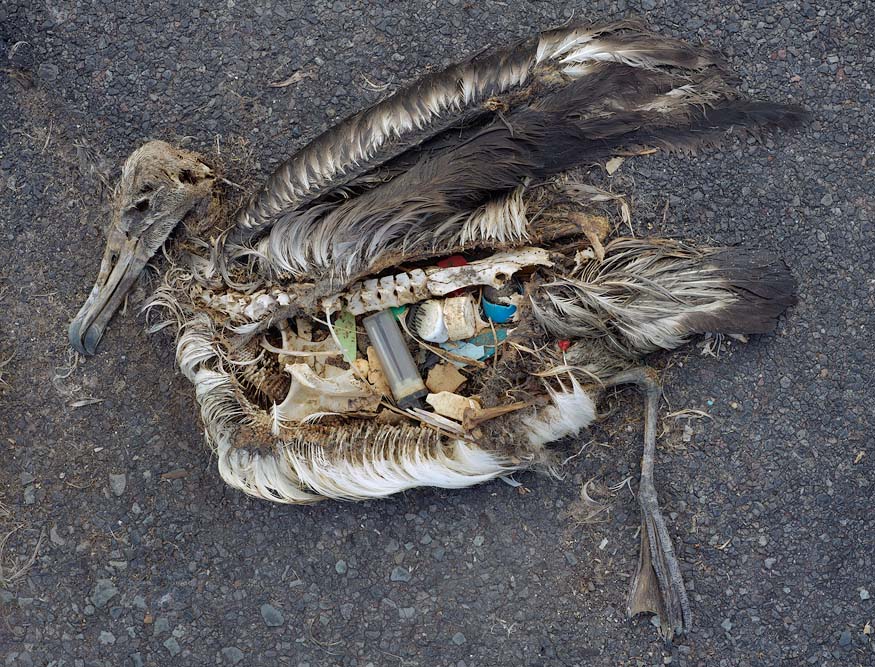 We also took some samples of water and applied some oil sorbent samples that we carry around to detect the trace of hydrocarbon in the seawater.
We want to come back to Hawaii and collect plastic debris.
Prototypes received!
Finally received the 3 -in progress- prototypes and we cannot wait to get our hands dirty !

Today,we got allocated a corner of a corridor, that will allow us to complete the prototypes. Above, the box "sleeping" above my berth. The prototypes are in good shape so prepare to see some progress on that front in the next few days ! 🙂 Here, one of the prototypes on the sunny deck !
Scarfinger
For those who keep asking, I removed the stitches and it's getting better everyday. Unfortunately I have been coughing a lot lately, but it's also getting better now thanks to the kind advices of my indian Unreasonable fellows, with honey, lemon and ginger 🙂
More bumpy road?
We have now left Honolulu since yesterday and the librairian has attached the books to the book shelves. Not a good sign. That means we expect large waves and agitated weather between Hawaii and Japan. We are one day behind schedule and we are now cruising fast, at about 21 knots in average. We will see land next in about 10 days. I'm excited to be on this journey with you.
Until soon! Warm regards from Pago Pago timezone !