Meet an Unreasonable Company
eFishery
Creating the future of aquaculture with an IoT smart feeding technology to help hundreds of millions of farmers at the bottom of the pyramid.
Headquarters
Bandung, West Java, Indonesia
eFishery's smart feeding solution helps fish and shrimp farmers make informed decisions about their aquaculture ponds. Their technology senses the fish's appetite by monitoring their vibrations as they correlate with levels of hunger, allowing eFishery to help farmers feed their fish automatically, in a timely manner, with the accurate dosage of feed. With internet-connected technology, farmers can manage their ponds remotely from a simple smartphone. The data can also predict how much fish the farmers will harvest and sell, allowing them to connect with buyers before arriving to market. Ultimately, eFishery's technology can increase yields by up to 35 percent and double net profit, helping hundreds of millions of farmers globally at the bottom of the pyramid, while tackling the global challenge of food security.
Recent
Press
March 27, 2017
Bandung-based eFishery partners with local university and global non-profit organisations to introduce its platform in the two countries
May 5, 2021
Kabayan, short for "Kasih, Bayar Nanti", is a pay-later program from eFishery to help provide fellow farmers with necessary support for their business, such as feed and eFisheryFeeder. With...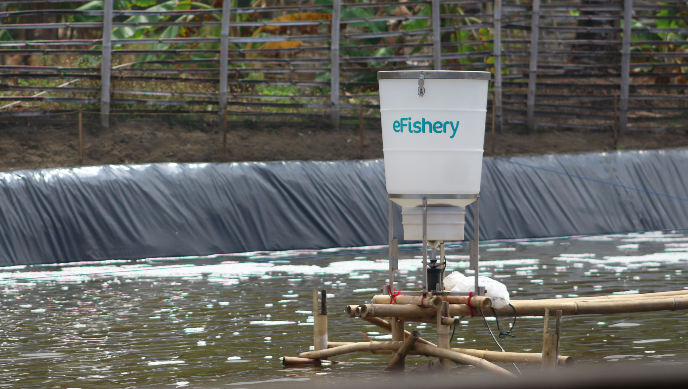 August 13, 2020
The agritech startup plans to open 100 eFisheryPoints -- a one-stop physical hub located near the farmers to allow them to access its products easily -- across Indonesia by end-2020
Get the
Unreasonable Newsletter
Get twice-monthly updates on eFishery and over 300 other companies working to solve the world's toughest problems.
Must select the list to subscribe to.